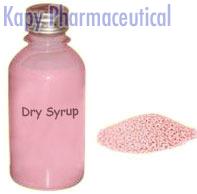 Utility Of Emoxime-DS Dry Syrup
The uses of Cefixime include the treatment of a wide variety of bacterial infections, lower and upper respiratory tract infections, soft tissue infection, and other infections. This medication is called cephalosporin antibiotic. This antibiotic treats bacterial infections, not viral infections, and stops the growth of bacteria. You can use Emoxime-DS Dry Syrup alone or in combination with other antibiotics for better treatment.
How To Use Emoxime DS Dry Syrup?
You must take the medicine as prescribed by the doctor. It is generally prescribed to take by mouth once a day. Even children can take the medicine twice a day. Before use, shake the bottle well. The dosage depends on medical condition, weight, and response to treatment. Take this drug at even time intervals because antibiotics work best if the specified amount of medicine is present in your body constantly. Don't discontinue taking this drug until the full prescribed amount is complete though symptoms disappear after a few days. Stopping suddenly taking this medication before completion of the prescribed dosage may result in a relapse of the bacterial infection. We, Emoxime- DS Dry Syrup Supplier, supply high-quality medicines to our customers.

Side Effects Of Emoxime DS Dry Syrup
• Stomach pain
• Diarrhea
• Nausea
• Gas
• Headache
• Dizziness

Consult your doctor immediately if you find any of these side effects. People taking this medicine may experience rare but serious side effects- severe stomach pain, persistent vomiting, dark urine, yellowish eye, extreme tiredness, fever, persistent sore throat, easy bruising, mood change, etc. Even serious intestinal condition may occur for months after treatment has stopped. If you have the following symptoms, don't take anti-diarrhea medicines because these medicines may result in worse conditions. Other rare but serious side effects include blood in your stool, oral thrush, vaginal yeast infection, allergic reaction, change in vaginal discharge, and patches in your mouth. So, if you notice any of these symptoms while taking this medicine, contact your doctor promptly.

Drug Interactions
Drug interactions influence the work of your medications. It may also lead to the growth of serious side effects. You should make a list of all the medications you use (prescribed or non-prescribed) and share it with your doctor. Don't make any changes in the dosage of your medications without the doctor's consent. The products which interact with the drug include warfarin (blood thinner), live bacterial vaccines, probenecid, etc.

Precautions That You May Take
Before using Cefixime, tell your doctor about your allergies and other medical conditions. This medicine may cause allergic reactions or other side effects. Therefore, tell your doctor if you have kidney disease, certain intestinal disease, and other problems. If you want to take the medicine, consult your doctor before surgery, during pregnancy, or before breast-feeding.

Mechanism Of Action
The GI tract absorbs 40-50% of the medicine. The drug is distributed to bile, urine, and across the placenta.

Conclusion
As a wholesale Emoxime DS Dry Syrup supplier, we supply the medicine at reasonable prices. Keep in mind, this medicine is hypersensitive to cephalosporin.