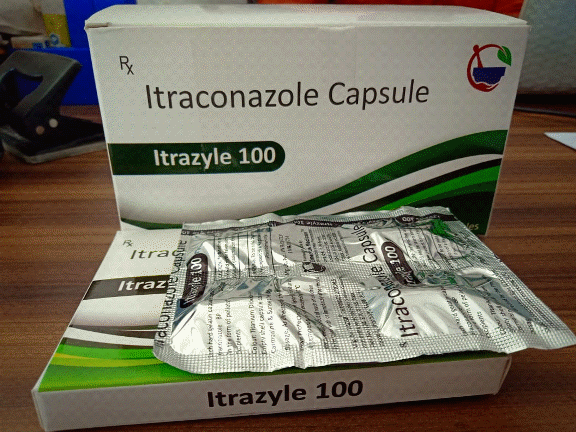 Itraconazole capsules are prescribed by the doctors for the treatment of fungal infections occurred in lungs to stop it spreading throughout the body. It actually treats fingernails infections. Both Itraconazole capsules and tablets are used for the same criteria and for toenails infections. But its oral solution is prescribed to those who are suffering from yeast infections in their mouth, throat, or esophagus areas.

How does Itraconazole work?
Itraconazole belongs to the class of triazoles which is an antifungal. This drug delays the growth of all the infection-causing fungi.

How Itraconazole should be taken?
As mentioned earlier, Itraconazole is available in tablet, capsule, and liquid solution form.

Dosages of Itraconazole capsules -
• To treat fungal infections in lungs – Once or twice a day after or during the meal for a minimum of 3 consecutive months.
• For serious infection in the same body parts – Thrice a day with a meal for the first three days and then as said above.
• To treat fungal infections in the toenails – Once a day with a meal for three months.
• To teat infections in the fingernails – Twice a day with a full meal for 7 days.
Itraconazole 100 mg and 200 mg capsules should be swallowed as a whole and patients should not crush, chew or open the capsule parts before consumption.
If someone wants to go for Itraconazole oral solutions then it should be taken on an empty stomach, and the dosages should limit up to twice a day for a month or as prescribed by the physician.

Attention!!
Doctors may also suggest their patients to take Itraconazole capsules with soft drinks due to some of their continued medicines such as cimetidine, nizatidine, lansoprazole, omeprazole, rabeprazole, etc.
It is very important to follow the instructions provided by the physicians!

Other uses of Itraconazole:
Itraconazole capsules are sometimes prescribed for the HIV or AIDS patients to treat fungal infections in their body.
Important warning:
• Patients should tell their doctors if they ever had a problem of heart failure or heart attack or any kind of heart diseases.
• Patients should inform their physicians if they have ever had any kidney, liver, or lungs diseases.
• If patients are taking medicines including cisapride, disopyramide, eplerenone, ergotamine, dronedarone, irinotecan, and triazolam, they should inform their doctors before starting dosages of Itraconazole capsules.

All the online and local suppliers of Itraconazole 100mg and 200 mg capsules are aware of the facts and they ask for prescriptions before selling this drug to their clients.